| | |
| --- | --- |
| Blencowe Families' Association Newsletter | Vol. 22 No. 1 February 2007 |
Blinkco Reunion on 30 September and 1 October 2006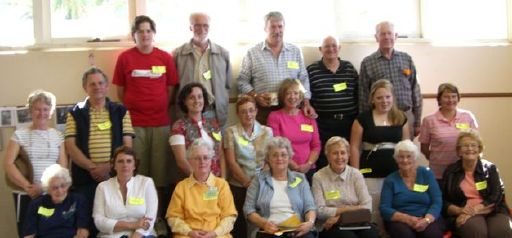 Descendents of the Blinkco and Reeve families joined together at Woonona, New South Wales, Australia to view family history research done on these two families. George Blinkco (aged 19) from Swaffham Prior, Cambridge arrived in Australia aboard the Morayshire in 1856 while the Reeve family from Stow Cum Quy, Cambridge arrived here aboard the Alfred in 1857.
In 1858, George Blinkco married Sarah, the 17 year old daughter of Henry and Margaret Reeve, linking the two families together. My husband, Glenn, is descended from this union and hence my interest in exploring the lineage of the Blinkco and the Reeve families.
Both families settled in the Wollongong area and eventually ran farms at Sherbrooke on Bulli Mountain. Early in 1900, the Water Board resumed all properties at Sherbrooke, they being situated in the catchment area for the new Cataract Dam. Subsequently, the families purchased properties in the Woonona area, where some continued with their farming, mainly fruit and vegetables for the Sydney market.
On the Saturday and Sunday mornings of the reunion, at St Paul's Anglican Church Woonona, founded by members of the Blinkco family, many old photos were viewed and individuals in them identified. During Saturday afternoon the reunion moved to Grevillia Park at Bulli. This community-maintained native garden uses an historic small building for its tea room. Originally, in the 1890's, this building was the Union Church at Sherbrooke; then it was moved to Woonona as part of the home of Sarah Blinkco (nee Reeve); finally a few years ago it was moved to its current location.
Finally, on Sunday afternoon, we all gathered at the Black Diamond Museum at Bulli Railway Station where one room is dedicated to Blinkco memorabilia, collected from the home of Rita and Elsie Blinkco, unmarried granddaughters of George Blinkco. They were great hoarders who threw out very few of their everyday possessions.
The oldest member of our Blinkco family, Ethel Byron (nee Blinkco), was able to attend the two days of the reunion having been brought down from Cowra by her son. Aged 94, she enjoyed talking to everybody, and had a most happy time. In St Paul's Anglican Church (that has ceased to function as a place of worship) we found the original hymn board that Ethel had donated to the Church in 1927. On 17 November, Ethel died at Cowra due to complications from a fall.
Joy Johnson
Australia
updated: 15 April 2007